About us
With more than 40 years history and the trust of 2000 farmers, Grupo La Caña is currently one of the main players in the F&V international outlook with 80% of export sales.
Caña Nature S.L. is the fruit of innovative R&D+i projects aiming at developing added value for the ready-to-eat market. Our subsidiary is specialized in Vth range: convenient and natural plant-based recipes. Guacamole, Salmorejo, Gazpacho and Grated tomato are elaborated only from fresh ingredients and locally sourced -the Tropical Coast (Granada).
Our commitment to freshness
We daily thrive to offer a healthy, natural and tasty range of products as our commitment towards health and nature is real. Our processes guarantee the highest nutritional values and the most demanding traceability. Such top quality standarts can only be achieved with excellent sourcing of fresh raw ingredients -directly from our farms- and innovative technology.
Also, HPP presents a true added value: no need for artificial preservatives. This innovative cold pasteurization extends the shelf life up to 7 weeks, wihtout any additives.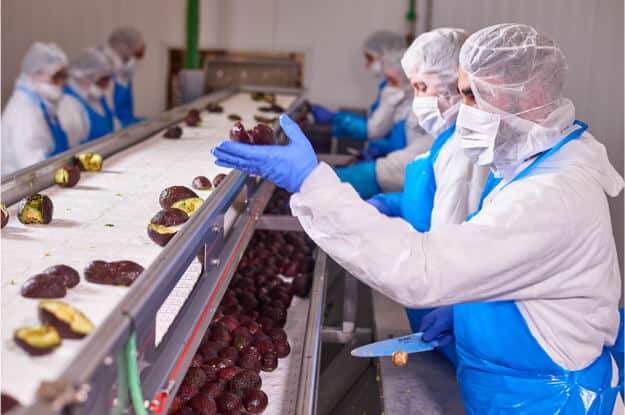 In order to maintain the functional properties of avocado and to preserve its delicious taste, our recipes are elaborated via HPP. This process enables us to use exclusively natural ingredients and to avoid the addition of any preservatives or additives. Thus, we preserve all the benefits from the fresh vegetables, such as the avocado's content in fibers and vitamins and consequently the guacamole becomes very similar to homemade with a unique naturalness and freshness.
Our Guacamole is elaborated only with natural ingredients, and during season, we locally source our avocados from our farmers. Thanks to perfectly ripe avocados, our recipes deliver a stunning fresh taste.
100% natural, with no additives nor preservatives (free from colouring, thickeners, antioxidant…) nothing artificial, only real raw ingredients!
Ingredients
Avocado, tomato, lemon juice, Extra Virgin Olive Oil, salt, coriander and garlic.
Nutrition Declaration
Typical values per 100g
Energy: 624kJ/ 152 kCal
Fat: 14g
Of which saturates: 2,7g
Carbohydrate: 1,5g
Of which sugars: 1,2g
Fibre: 8,5g
Protein: 1,5g
Salt: 0,8g
For the variety of functional guacamole with a high content of Vitamin A, we have chosen to include products such as bell peppers in the original recipe, which give this food an important source of vitamin B6, C, E, and Beta-carotene, as well as the jalapeño which provides a mild spicy touch. In addition, the high vitamin A content of this guacamole contributes to the normal functioning of the immune system.
Ingredients
Avocado, tomato, bell pepper, lemon juice, extra virgin olive oil, salt, coriander, garlic and onion.
Nutrition Declaration
Average values ​​per 100ml
Energy: 569kJ / 138 kCal
Fat: 11g
Of which saturated fatty acids: 2.2g
Carbohydrates: 3.8g
Of which sugars: 3.5g
Fibre: 9.9g
Proteins: 1,5g
Salt: 0.8g
Vitamin A: 530 µg
For this variety of low-calorie functional guacamole, we have managed to halve the high calorie content of this food thanks to the apple added in the original recipe. Therefore, any consumer can enjoy this magnificent food.
Ingredients
Avocado, tomato, apple, lemon juice, extra virgin olive oil, salt, coriander, garlic and onion.
Nutrition Declaration
Energy: 347 kJ / 83 kcal
Fat: 3.1g
Saturated Fat: 0.8g
Carbohydrates: 8.7g
Sugars: 6.1g
Fibre: 4.1g
Proteins: 3.1g
Salt: 0.6g
Contact us
Any suggestions? Please leave us a message
If you have any questions or want to contact us we suggest to fill out our form.
Avenida de Incar, 33 – 18130 Escúzar, Granada (España)
www.cnature.es
Phone: +34 958050002
export@cnature.es